Speaking and Training Services
from Gary Karp
The Perfect Partner to Help Your Organization Thrive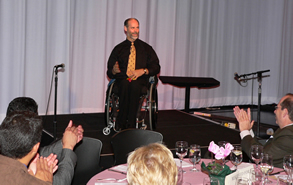 Gary Karp is a unique thinker and leader with a powerful business message to share – disability has changed radically, and workplace culture needs to get up to speed!
With his compelling keynotes his effective, interactive workshops, and consultation Gary will:
• Help ensure you don't miss a great employee who happens to have a disability
• Create a workplace culture where people will
think in terms of adaptability rather than
"going on disability," appropriately reducing
absence and supporting the bottom line.
Listen to what leaders in disability and employment have said about Gary's special contributions:
"Your skillful blending of the social, historical, political, ethical, and business pieces of the 'modern disability' story was simply brilliant."
– John Kemp, Executive Director, U.S. Business Leadership Network
"Your warmth, humor, and astonishing ability to connect with our colleagues in such an immediate and personal way established a wonderful tone at our IDM event."
– Robin Nagel, Kaiser Permanente
"You set a personal example for everyone to see the potential in the huge, untapped resource of people with disabilities. You have a perfect pitch for a professional audience, and are the ultimate professional without being preachy."
– Marie Bernard, CEO, Project Hired
Customized to Your Goals
Gary Karp is a seasoned professional speaker who is committed to serving the goals of your meeting or event.
Gary has great flexibility to offer – he can woo the crowd on the keynote stage, he can educate in a facilitated workshop setting, and he can support your event in the role of emcee or panel moderator.
For a set fee, Gary can play any of these roles according to your need. He'll help you achieve your vision and goals, whether you are planning an event or looking for a great training to add to your schedule.
Visit the Keynotes, Workshops, and Testimonials pages linked below to learn
more and download his single page
"one-sheets" linked at the right of this page.