Workplace Disability Etiquette
Wheelchair Users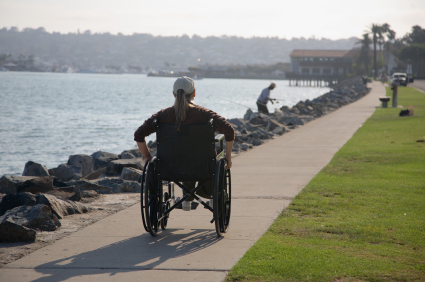 For the outside observer, a person using a wheelchair seems "confined." But to them, the wheelchair is a precious means of active and independent living
In reality, it does not confine – it liberates.
The image typically seen of wheelchair is of the "hospital style" chair – chrome, folding, sideguards with armrests, large casters, and footrests than extend well
forward.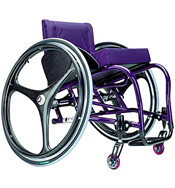 But wheelchair design has made tremendous advances. They are extremely sophisticated tools, highly customized for the individual according to their body, their disability, their strength, and their chosen lifestyle. And they are much better looking! – conveying an image of active independence rather than being a "medical patient."
Here are some key points of disabilty etiquette for when you encounter a wheelchair user.
Wheelchairs are personal space, an extension of the body.

A properly fitted wheelchair is not a burden to use.

Pushing a person in a wheelchair is a skill.

For extended conversations, if possible, sit at eye level.

Ensure that social activities are accessible.

Now that offices are widely accessible with usable restrooms, wheelchair users are much more fully available to the workforce. In the past, it was only these artificial, external obstacles that prevented organizations from tapping this valuable human resource.
It wasn't the disability that was the problem – it was the steps and the narrow doors.
General Etiquette | Wheelchair Users | Vision Loss | Hearing Loss | Cognitive ImpairmentSpeech Impairment | Invisible Disabilities | Disability & Language